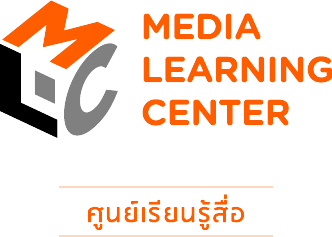 Media Learning Center ศูนย์เรียนรู้สื่อ
The Media Learning Center (MLC), a not-for profit organization, operates under the Foundation Community Educational Media (FCEM). We take the role of a credible leader of advocacy efforts for freedom of expression, enhanced democracy and greater media freedom and professionalism.
MLC was established in late 2013 to build capacity in the use of media communication skills among practicing and aspiring journalists, activists, academics, students, civil society leaders, and others interested in public communication in Thailand and ASEAN to develop investigative reporting, organizational communication and campaigns. MLC works with outside experts to develop and conduct courses for MLC-targeted groups on media-related topics, for example, media technology, media literacy, news reporting, innovation in communication, and professionalism.
The results of the relevant research by MLC and our partners are complemented by public events to discuss and to develop findings and ways to overcome challenges in order to enhance freedom of expression.

Training
MLC conducts independent training courses targeting practicing journalists in alternative and mainstream media and civil society organizations. Our training courses are designed for diverse target groups. Most training courses are funded by non-profit organizations.
Previous training topics include but are not limited to citizen news reporting on energy issues; activists for creative media; news reporting on human rights; learning to use public communication to develop the potential of teachers, children and youth on finance, economics, and business among civil society organizations; conflict and sensitivity in news reporting from the deep South of Thailand. (Click here for more information in Thai)
Themes of training courses in year 2015 for Journalists:
Telling a Story Through Video
Innovation in Media Production
Conflict-Sensitive Reporting
Ethics and Censorship
Digital Security
Economics, Finance and Monitoring Government Expenditure and Local Governance
Investigating Fraud and Public Corruption.
Themes of training courses in year 2015 for Civil Society Activists:
Media Literacy
Media and Public Outreach Strategy training
Digital Security
MLC is able to implement specific training for specific groups of people on any media topic. Simply contact info@medialearningcenter.com Tel (+66) 02 690 2711

Consult & Mentor
MLC offers consultancy and mentoring for aspiring journalists. We bring theory to practice. Example topics are media development; strategies for public access; management for civil society organizations; media literacy; and platforms for social media.

Fellowship
Every year, MLC offers scholarships to working journalists (10 scholarships of 50,000 baht each) from Thailand and selected ASEAN countries and for students in Thailand (15 scholarships of which at least 5 are for regional students, of 30,000 baht each) to conduct in-depth investigations on topics of interest.
Applicants must be working journalists or Bachelor's degree students.
The proposed topic must reflect social problems and solutions. Any kind of format, e.g. print, television, radio or internet, is acceptable.
A committee of 5 experts from among professional journalists, donors, and NGOs selects the awardees.
Applications are accepted from March to June.
Completed articles are published on the Prachatai news website, and distributed to MLC partners for dissemination on their media platforms by August.

Research / Public Events
MLC partners with other important stakeholders in Thailand and ASEAN to conduct media-related research. We aim to cover 2 prominent research topics annually.
Research in progress which will be finished in 2014 include 'Survival of Local Media' and 'Investigation on Potential of Organizational Communication for Civil Society in Thailand', funded by SAPAN and USAID.
Funded research with partners for year 2015 is 'New Media Regulation' – a comparative study with practice in other countries. This research is funded by the Office of the National Broadcasting and Telecommunications Commission (NBTC)
Results of original research by MLC and others will be presented in panel discussions.
In addition, MLC organizes panel discussions in a project called 'Enjoy Learning' on the first Friday of every month. We invite experts to provide knowledge and exchange viewpoints with the Prachatai team. Details will follow on the Prachatai website. www.prachatai.com
Event Documentation Service
We offer professional services of documenting, summarizing, printing, and filming to other organizations.